This weekend we celebrated six months together! The time has gone quickly, but it's been a lot of fun. I am the luckiest girl in New York!
We met because of teacher blogs and Ms Frizzle, so big thanks to her. :) When we finally went out back in April, after emailing for a couple months, it was clear that this was something special and not just a casual thing. Things were very happy and comfortable, but still exciting, right from the start. Barely a month into the relationship, soon after I bought my ticket to Seattle, he bought one too, for two months down the road. We took a couple road trips to get away, and plan on another one this weekend.
We have similar or overlapping tastes in a lot of areas, like humor, education, music, tv, and movies. We are both self-proclaimed nerds, for different reasons though. He loves politics, nonfiction, and history, and I love fiction and travel. He's also almost three years younger than I am (gasp!).
I am very happy. It is awesome. So great!

So anyway, back to this weekend. On Saturday evening, we got dinner in Chelsea and then were going to go somewhere else, except that I got a bad case of worn-out-ness at EIGHT, like the loser I am. So Sunday was a bit more fun. We started with a couple errands, and then an impromptu brunch in the East Village. We walked down a few blocks to this awesome establishment: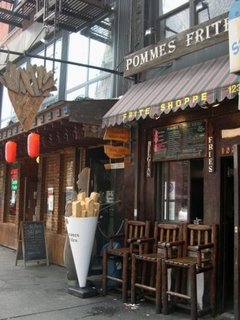 I randomly watched a special on Food Network about French Fries, and they visited this shop, Pommes Frites. They make authentic Belgian fries, in a paper cone like you see on the giant model in front there. And that's it! There are a ton of sauces you can get to dip the delicious, freshly-fried potatoes. We got cheese and curry ketchup: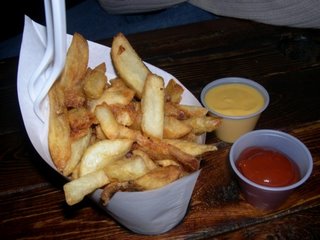 We had heard that it was supposed to be rainy and yucky all day, so it was a very pleasant surprise when the afternoon developed sunny, with a few fluffy clouds, and quite warm at times. It was decided to do a New York-y thing that we've talked about, visiting one of the viewpoints. So we traveled up to Rockefeller Center, and got tickets for the Top of the Rock: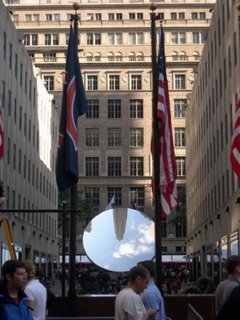 The view was fantastic, and the weather was great. It was still warm all the way up there, instead of windy and chilly like I thought.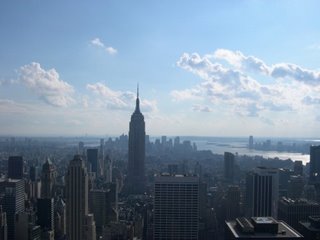 Here we are, smiling for one of the strangers we had to ask to take our picture:

Here we are in front of another familiar skyline:
Just ONE of the reasons that he's the best boyfriend ever: He looked around for a month until he tracked down banana chocolate. at a little Czech shop here in New York!
Happy six months, Boyfriend! Can't wait for more!