Our flight left JFK around 6pm; we flew all night to Paris. At CDG, in a mostly-empty area near the boarding gate to Barcelona, Mom and I did yoga. I felt silly but it felt wonderful after the cramped 7 hour flight.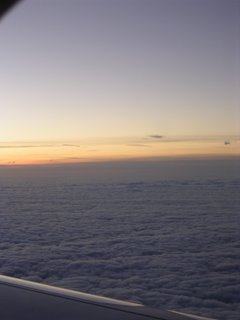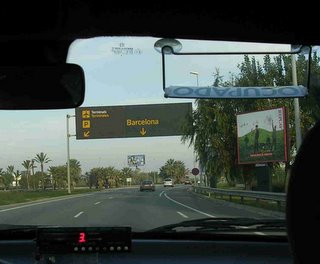 During the short flight to Spain, we saw a gorgeous sunrise over a blanket of woolen clouds.
Upon leaving the plane in Barcelona and waiting for baggage, I was disoriented to see palm trees waving outside. It looked like LA. From the cab, I looked around us at the passing scenery, including signs heading to Barcelona, our destination.
Our lodging was a hostel in the Barri Gotic, or the Gothic Quarter. It's the oldest part of the town, from back in the Roman days. The main Barcelona cathedral was a mere block away.
After a three-hour nap to attempt to prevent jet-lag, we headed to the cathedral. It was twilight. Inside, we stayed for Christmas mass. Since Barcelona is the capital of the Catala region, all the signs are in both Catalan and Castilian. Also, the masses alternate between both languages as well. I think we saw the Catalan one.
After the cathedral, Mom directed us to La Rambla, a few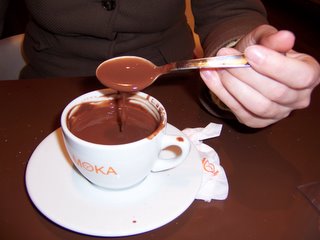 alley-streets over. It's this long street with a promenade in the middle, lined with shops and restaurants, and merchants in the daytime. Our Christmas dinner was at Moka Restaurant: french fries for me, and an omelet for Mom, and fresh-squeezed orange juice for both of us. As a special Spanish treat for dessert, we indulged in
churros con chocolate
. Just what it sounds like: a plate of short, sugared churros along with small cups of thick, creamy chocolate. Mm.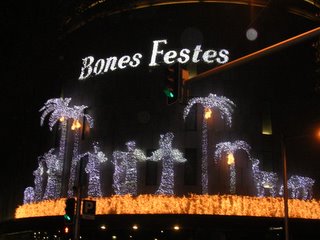 Happy Holidays from El Corte Ingles, the huge department store. Look, the Nativity has palm trees!

For our first full day in Barcelona, we started at the famous Sagrada Familia, a cathedral that's been under construction for over a hundred years. The principal architect was Gaudi, the celebrated Catalan artist/builder. His work is unlike anything I've ever seen. I do know that nature was a huge influence. The columns inside the cathedral are based on tree-trunks, and their spiral construction, rather than straight up and down tradition columns. There are a whole bunch of towers and spires (at least eight now, there will be twelve eventually), decorated with all kinds of unusual shapes and figures. They are topped with what looks like giant bunches of multi-colored grapes.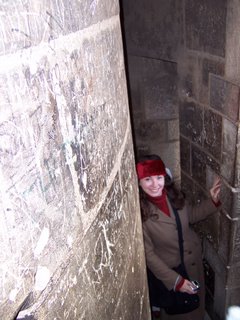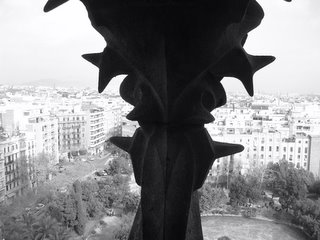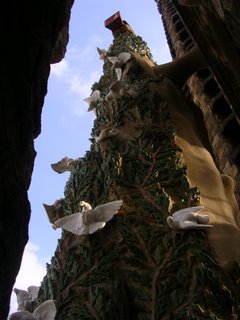 This tower is really interesting. It's got a grass-like decoration background, and these doves who appear to be in motion. Not exactly your standard cathedral fare, huh?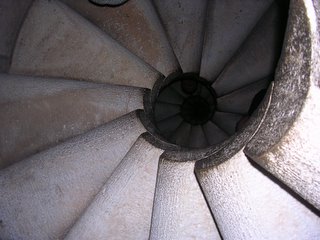 The circular steps climbing up one of the towers.
From the Sagrada Familia, we had a buffet lunch (perfect for a picky American like me), and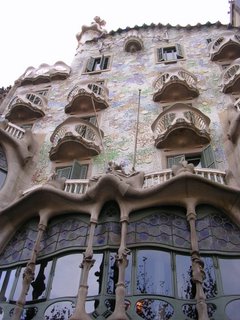 then walked to La Pedrera, a famous apartment building designed also by Gaudi. It was closed (Spain observing Christmas as well as Boxing Day), so we continued on and ran into Casa Batllo (bat-YO), yet another Gaudi building. This one is heavily based on nature, specifically water. Notice that even on the facade, there are no straight lines; that continues all throughout the interior as well.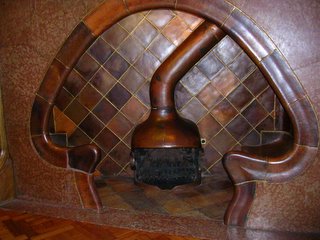 In the first parlor/salon room, you find the mushroom fireplace. The mushroom wall is actually slanted; there's a bench on the right for two people (a young couple), and a bench on the left for one (the girl's chaperone).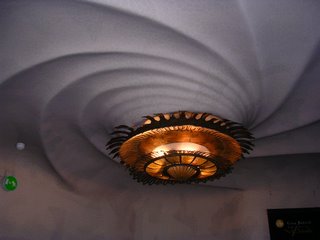 A gorgeous nautilus ceiling in the dining room.
Rear facade: Look at the difference between Gaudi's whimsical, flowy architecture and traditional.
Gaudi created a revolutionary and stunning space for laundry on the top floor. The slats on the right let in light and air, drying the clothes that were washed and hung across the hallway in small rooms with huge sinks. Again you notice the use of curves and unique lines.
On the roof, in the pump room (I think), Gaudi put in this fountain whose bubbling water creates a mesmerizing melody.